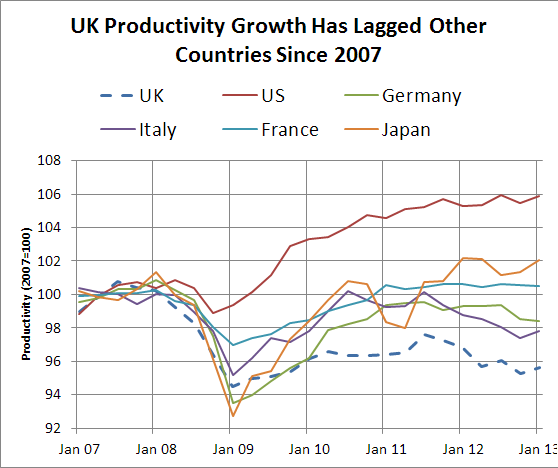 Productivity may not sound like an election issue, but in reality, this is something the government and businesses have been wrestling with for some time. British economic output, our levels of productivity, are too low.
As a country, we are an advanced, complex, mature economy. We are innovative. Our products and services are bought across the world. However, when it comes to productivity – a way of measuring the "output per unit of input, measured per worker or by the number of hours worked," according to economic correspondents.
Simply put, productivity is a way of showing how much money we make, as a nation, after weighing everything that goes into making those products and services. Economists include everything we produce in these figures, from accountancy and financial services to cars, wind turbines, chocolate and trains.
Mind the Gap
Compared to other advanced economies, our productivity is low. We are 30% behind the US.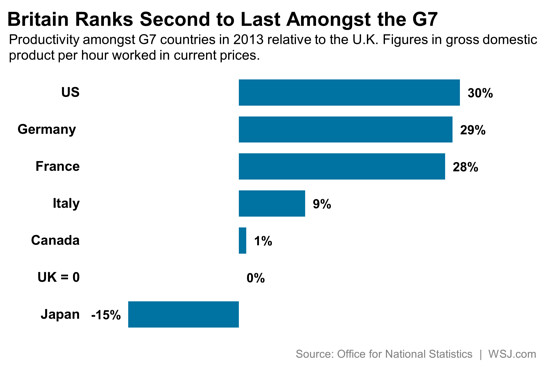 Since the 1990s, the Office for National Statistics (ONS) has published an international comparison table of productivity. Between the UK and other G7 countries (the US, Japan, Germany, France, Italy and Canada), there was a 9% gap, which reduced to 4% in 2007. However, since the recession, that has increased again to 18% compared to other G7 countries.
However, within the UK economy, there are enormous gaps, between high-performance businesses and so-called "zombies", and between different regions. London is 60% more productive than Northern Ireland, which is the least productive region of the country.
OECD research notes that fast-growing companies are more productive than ever, but there are more "zombies" – businesses that are absorbing talent and capital better used elsewhere. According to the Financial Times, this indicates that "a slowdown in the diffusion of know-how and slower elimination of the weakest competitors", is causing a drag on the country's economy.
What is the Solution?
Productivity affects everyone. Some areas, such as the City of London (Square Mile) and Aberdeen, home to the UK oil and gas sector, have a much higher Gross Value Added (GVA) than others. Sectors, where margins are higher, will generate larger profits (for owners and shareholders) and higher salaries and bonuses for workers, pushing up productivity.
Infrastructure also plays an important role in the productivity puzzle. Major civil projects, such as Crossrail, the Heathrow expansion, Transport for North (created out of the Northern Powerhouse initiative) and HS2, are all expected to improve economic output and, therefore, productivity. Broadband upgrades and other initiatives will have a similar positive impact.
In November 2016, Chancellor Phillip Hammond announced a national productivity investment fund of £23 billion, for innovation and infrastructure over the next five years. Expect productivity to be mentioned in the run up to the snap election in June 2017.
Businesses are also keen to improve productivity. Over the last decade, many companies have bought and implemented software and other technology solutions as a way of improving processes and producing more in the same amount of time. However, Mario Draghi, the European Central Bank's president, has noted that too many "European companies were [still] failing to incorporate them into their operations."
Technology is not the only solution. Financial worries – either from long-term debts or short-term emergencies – reduces productivity, since it reduces employee morale, causing absences, sick days and outward signs of stress, such as tiredness, irritability and accidents.
We also need to remember that productivity is more than a statistical breakdown of how hard we all work. How much computers and machines produce, how we are doing compared to other economically advanced countries. It is an outward sign of human satisfaction. Happier employees are more productive. Knowledge economy workers need to mentally perform at a high level, consistently, which means stress and anxiety – caused by debt, a lack of savings or retirement funds – has a negative impact on productivity, engagement at work and happiness.
Make it easier for your staff to get their finances under control. Offer them employee benefit loans, combined with a saving account. Give employees the option of taking a loan connected to their employment – contingent on years of service and performance – with repayments funded directly from their salaries. Credit ratings are still important, but finally, there is a way to ensure past financial performance isn't the only criteria to judge future stability.
Employee benefit loans give staff with a way to consolidate debts and start putting money aside in that rainy day fund. Now that is an employee benefit your staff can take to the bank. Find out more today.
---
Sources:
https://www.theguardian.com/business/2016/dec/25/what-is-productivity-why-uk-poorhttps://www.theguardian.com/business/2016/nov/24/why-is-uks-productivity-still-behind-that-of-other-major-economieshttps://www.ft.com/content/ac05863e-e304-11e6-9645-c9357a75844ahttps://www.ecb.europa.eu/press/key/date/2017/html/sp170313_1.en.html