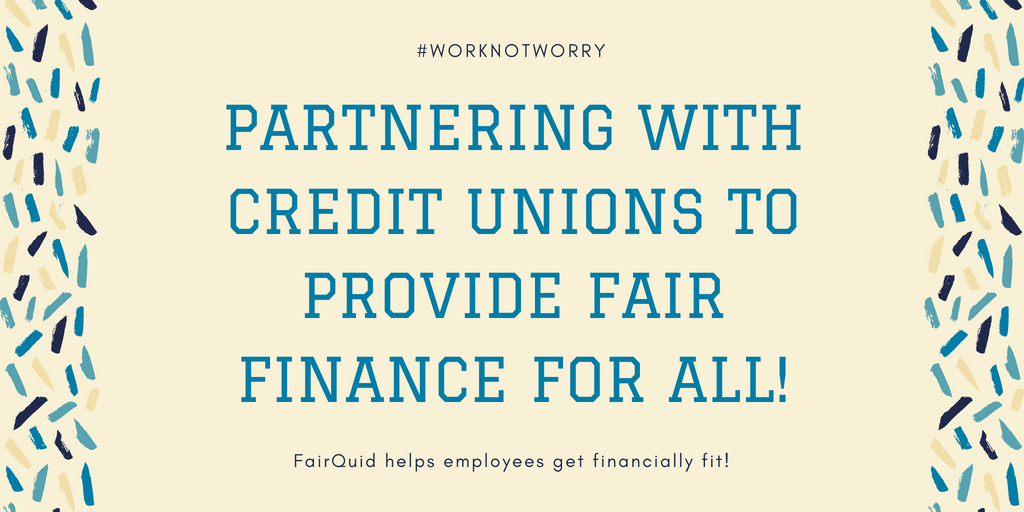 Read time: 2 mins
Not enough savings and too much debt is a painfully stressful reality for millions of people across the UK. Credit unions are at the forefront of driving change and we, at FairQuid, are right beside them providing access to fair credit.
ABCUL (Association of British Credit Unions Limited) has launched the #WorkNotWorry campaign, with the aim to get more people to start saving and benefiting from credit unions. If you haven't heard of them, credit unions are not-for-profit, member-owned financial co-operatives. Members (anyone who has an account with them), enjoy the same saving deposit scheme protections and services as high street banks but with better benefits. They can earn dividends, so when the credit union and local community does well, so do the members.
What causes worry at work?
Research shows that 46% of employees are worried about money, and 59% of those feel they're not performing at their bestbecause of this stress. It doesn't help that 1 in 4 are not getting enough sleep, which is understandable when 16 million adults have less than £100 in savings, according to the Money Advice Service (MAS).
Media stories about record levels of debt and people with not enough savings always sound like these are problems that happen in other companies, to other people. However, as we know from working with companies across the country, these problems have an impact on more staff than companies realise.
It's a scary reality that millions of people, including those with families to support, are carrying more debt than they can afford and living one pay cheque to the next. Together with the employer, we can change this.
What can employers do?
When employees are caught in a vicious cycle of perpetual debt they need practical help. As money worries persist, team members can become less productive, take time off sick, make mistakes, and could start looking for another job.
In partnership with credit unions, we offer a practical solution through our innovative wellbeing platform. At FairQuid, both our employee financial wellbeing products have attached savings components whether you Save as you Borrow or Save with a Purpose. We have found that when nudged to save, the majority keep saving after the debt has been fully paid, changing behaviour for the future and working towards becoming debt-free. Combined loan and saving payments come direct from net wages, making it easier for people to budget without having to find spare cash for savings.
Most financial institutions only use credit scores to assess eligibility for credit. However, we know that doesn't give everyone the fairest chance at accessing finance when they need it most. With our partner credit unions, we reward employee loyalty by assessing eligibility on the length of service and performance. This way, we give employees a way out of debt and into savings, changing long-term attitudes to money, and significantly reducing stress at work.
We believe in the power of the community to help each other and therefore are proud to support credit unions to increase their impact and raise awareness through the #WorkNotWorry campaign.
Want to support your team where they need it most? Join the FairQuid movement and help your staff to #WorkNotWorry! Contact us today.