Richard Thaler won the Nobel prize for economics in 2017 for his contributions to behavioural economics. His ideas, known as "nudge theory" could play an important role in encouraging staff to reduce debts and save more, which improves retention and reduces recruitment and training costs.
Nudge theories have already been put into practice across many countries.
In the UK, Thaler's belief that when policies are skewed towards people's long-term self-interest, have already positively impacted pensions, reduced smoking and increased organ donation.
Championing the concept of "nudging" people was behind the government's 2012 pensions auto-enrolment policy that meant private businesses and employees needed to opt-out rather than opt-in. It has successfully and massively increased private pension contributions.
Nudge Theory in Action
In 2010, the behavioural science and economics professor at the University of Chicago was part of the coalition government "nudge team", which explored everything from vaping to energy and organ donations. Known as the Behavioural Insights Team, it's credited with encouraging 100,000 extra organ donations and persuading 20% more people to shop around for a cheaper energy provider.
The theory achieved widespread attention when Thaler co-wrote a book with US professor Cass Sunstein in 2008: Nudge: Improving Decisions about Health, Wealth, and Happiness. Since then, nudge concepts have been put into practice around the world in the public, private and charities sector, many times with resounding success.
Not that they are without critics. Some on the right say they're too paternalistic, even when they achieve results that help those directly involved and the public. Whereas, some on the left claim these concepts are neoliberal – concepts popular during the Bush administration – since they rely on individual choice instead of overt state action.
Although popular with academics and governments, we need to see how these theories could be applied in the workplace. Could nudge theories help employers retain more staff, reducing talent acquisition and training costs?
In our view and with the experience we have had with employers, we know they can. FairQuid is putting nudge theory into practice.
Staff and Employer Benefits
Far too much data exists to show that people in the UK are in more debt than ever and are saving far less than we should. We are, unwittingly, leading ourselves down the same road that led to the last global recession.
Too much debt and not enough savings directly impacts employees. Staff are stressed about money. This won't affect all of your team all of the time, of course, but once a percentage of your staff are worried about money often enough it will impact productivity, absence rates, stress levels and illnesses. Especially this time of year, in autumn and winter, when the need for money is greater (Summer is gone, and Christmas is approaching) and colder weather makes people more likely to get colds and flus.
What happens when existing credit limits prevent staff from spending much more, yet they need more for presents and other seasonal costs?
One of two things: People try and borrow more, which could mean payday loans, or they look for a new, better paying job. Either way, you lose a member of staff, or stress and absence rates increase as a result of larger debt burdens.
There is another way. With FairQuid, we offer consolidation loans that include a savings account and savings products. Financial wellbeing for staff, which costs your business nothing. Below is a table outlining what happens when someone takes out a consolidation loan that automatically includes a savings account.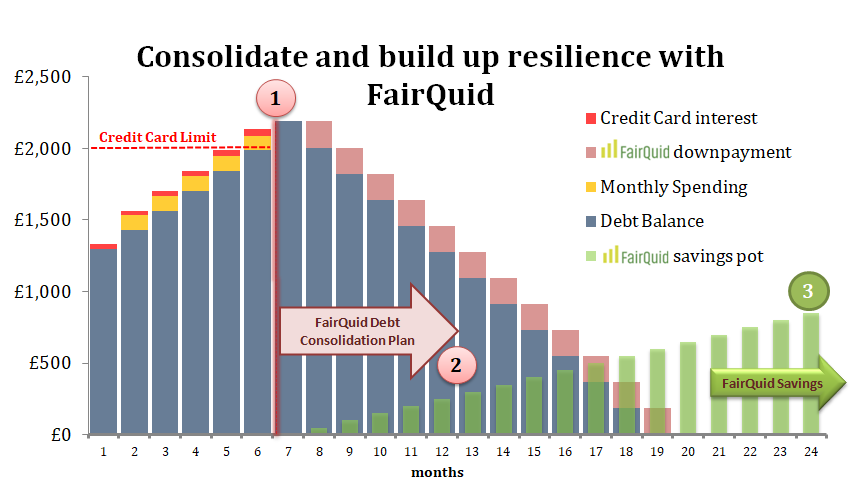 (1.) Christmas is approaching. A customer spends too much, pushing them further into debt since they haven't had time to pay down debts since the Summer.
(2.) They are offered FairQuid Financial Wellbeing products at work, taking out a consolidation loan that gives them a little extra credit whilst paying off existing debts and opening an automatic savings accounts. Funds are taken directly from source, so they get used to budgeting a new amount whilst reducing their debts and starting to save.
(3.) In time, debts are fully paid off, and savings continue, which is what 90% of FairQuid Financial Wellbeing customers do after they clear their debts.
That is, one of the ways, how we can help you put Nobel prize-winning ideas into action, which means employees don't look for a new job and are less stressed and more present at work.
As an employer, you can do something about these issues (whilst also ensuring your staff are more productive and engaged) – thanks to FairQuid Credit Union savings accounts. Best of all, these won't cost your business a penny. Find out more today.